Jonathan Howse's Sacred
The Christina Parker Gallery
St. John's NL
by:
Andrea Monro
Dylan White
Erika Jane Stephens
Martin Poole
Forward: The central ideas presented here are meant to be fragmentary (and all within 300 words). They are all products of a walk-through in the Christina Parker Gallery, in April of 2017, and the insights that followed from it. Perhaps the subsequent layering of perspectives will aptly coincide with Jonathan Howse's Sacred which seems to evoke the same process.
The art will, in hope, retain the last word.
---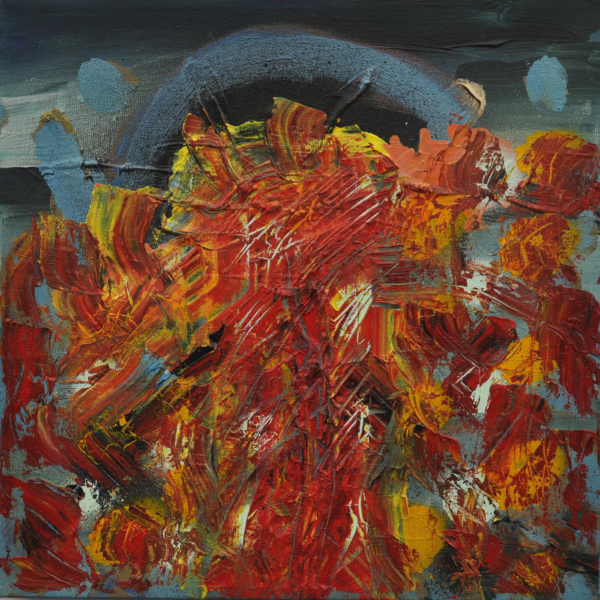 "Red Land" by Jonathan Howse (oil, acrylic and spray paint on canvas) 12" × 12" 2017 :: Used with Permission from The Christina Parker Gallery
---
ANDREA MONRO:
What is more sacred than family, the sanctity of home, the reverence of nature and the recognition of the glory of those who came before us? In his latest exhibit "Sacred", artist Jonathan Howse presents to us the option to think of the sacred in a different light. In his work there is a marked calling back to what is the artist's plea: to recognize the holy in the simple, the uncomplicated truth that we have options in the way we live, how we form bonds, and how we relate to the environment around us.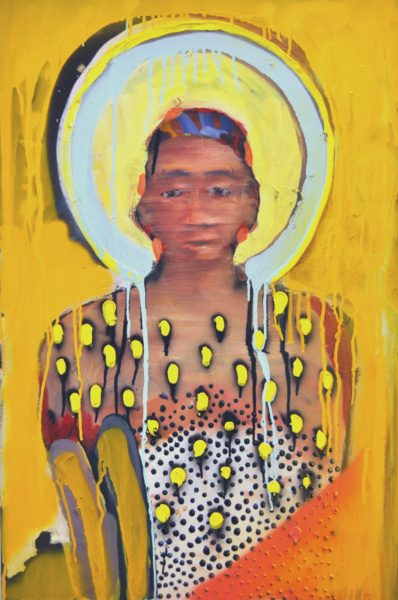 "Icon" by Jonathon Howse (Oil, acrylic and spray paint on canvas) 36" × 24" 2017 :: Used with Permission from The Christina Parker Gallery
---
Howse speaks of his belief that the next messiah will be Native. I believe he feels—as one can see represented in "Icon"—that the halo serves more of a purpose than the traditional recognition of glory or show of respect. It is a plea as well. A gentle call to arms for the viewer to awaken to a shift occurring in the world, that is, to embrace this idea of sacred as a part of a new doctrine.
In "Icon", the halo encompasses the figures head, almost appearing to rest on his shoulders. A privilege and a weight, a sun almost blocking out a darkened moon. The figure's face appears to be fading, evaporating into a forgotten time, yet his body is positioned in a stoic stance, strong in the face of what might come. Oil paint and spray paint drip over the figures shoulders, making the symbolic (halo), and the real (figure), appear more as one, than two, separate entities.
---
DYLAN WHITE:
The figure of the Native, or Aboriginal, reoccurs throughout Jonathan Howse's study of glory, and the symbol of the halo, Sacred. Interspersed and/or perhaps juxtaposed to Pop Mercer and Father—images that could easily be many of our grandfathers or fathers—we see Totem and Return of the Beothuk 2, exploring ideas of Aboriginal identity and meaning. The existence of these images in the same room forces us to think about the relation of our familial European ancestry, as well as our contemporary Newfoundland culture, to that of the Indigenous peoples that have long inhabited these lands. Unavoidably one has to question our ideas of the sacred compared to Aboriginal ideas of the sacred, and furthermore, to reflect on how we treat the Aboriginal peoples of our land both past and present. How do our own formulations of the sacred or the godly stand up to our actions?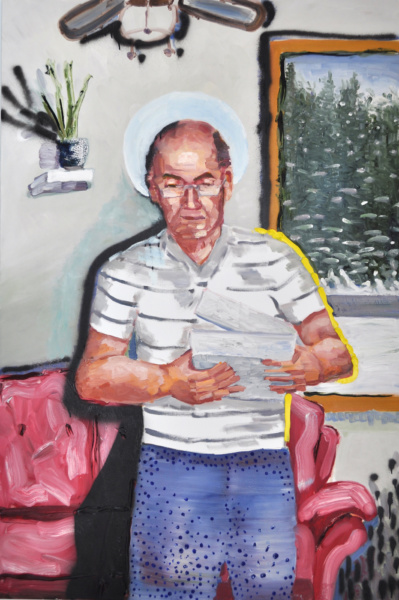 "Pop Mercer" by Jonathan Howse (Oil, acrylic and spray paint on canvas) 60" × 40" 2017 :: Used with Permission from The Christina Parker Gallery
---
Directly across from Nan Reid—an image of a homely, smiling old lady in her rocking-chair corner, dotted red—we see Icon, depicting the sombre looking Native, illuminated by yellows and burnt orange, a white circle framing the figures head. Nan smiles looking confidently and perhaps hopefully forward while the Native's gaze is distracted yet contemplative, perhaps ruminating on a troubled past.
Nan Reid by Jonathan Howse (Oil on canvas) 30" × 40" 2017 :: Used with Permission from The Christina Parker Gallery
---
The marriage of these two ways of looking is perhaps what we need today. In a world that is now constantly marred and threatening destruction, natural or unnatural, in a country that will soon be celebrating its 150th year. A country largely built on colonization and ruination, we could learn much from Aboriginal ideas of the sacred. Howse's Sacred plants thoughts such as these in one's mind, forcing us to question our own values and ideas of the sacred.
---
ERIKA JANE STEPHENS:
Walking around the gallery I was drawn to the painting, Jeff Werner. It seems to be the piece for me that brings the show together, in a way that has me drawing a particular conclusion. Howse's work, I feel is primarily about heritage, belief and every-day saints. Jeff Werner makes me think of how particular people in our lives may be to us personally sacred. That the idea of sacred is not fixed to a system or supposed cultural heritage, but that a sense of the sacred could exist in the present, exterior to all constructs, within the people we hold most dear, and that they are perhaps the most holy characters in our lives.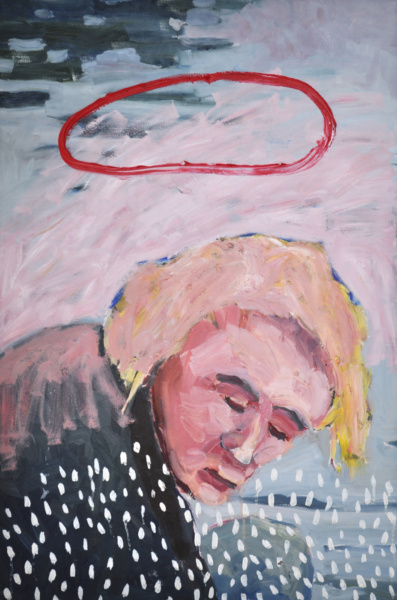 "Jeff Werner" by Jonathan Howse (Oil on canvas) 36" × 24"2017 :: Used with Permission from The Christina Parker Gallery
---
Jeff Werner I feel is an intimate portrait of a personally sacred individual, capturing a pensive and maybe even melancholy moment. Regardless, the subject emits radiant drips of white. This is maybe emphasized by its smaller (seeming to be) counterpart Grey and White, which sits on the gallery wall, strategically close to Jeff Werner. Perhaps this painting is the magnification of the abstract spirit of the character. Jeff Werner being to me, the quietest and perhaps most powerful of the works, pivotal because it provided an insight that then bled into other paintings of family members portrayed as saints, flanked by totems and icons, all forcing the question; what is sacred?
---
MARTIN POOLE:
In many ways we are presented with two voices. One that offers detail and composition, and another that lends spontaneity, evidenced by bursts of aerosol and frenzied brush strokes that appear to deface or "tag" the work. These depictions of events and people (that remain close to Howse) are fused with catholic imagery that isn't catholic imagery, motifs that aren't motifs, themes that do not entrap the subject, rather, it appears from our eyes as we look upon it. Then, we should ask, what are we seeing? Is it the past or the present?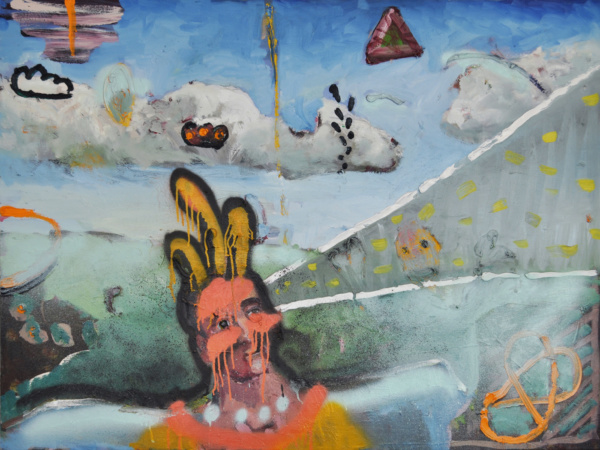 "Return of the Beothuk 2" by Jonathan Howse (Oil and spray paint on canvas) 36" × 48" 2017 :: Used with Permission from The Christina Parker Gallery
---
Maybe I should consider it as two states of mind: first, a careful deliberation of images constructed with an eye for the more conventional painting; honed yet deliberately flattened, in order to prepare for the other voice that is layered with thick colors and running paint, revealing the inner nature of the subject, or is it the intention from the artist seeping through?
I am thinking of three works in particular: first, Return of the Beothuk 2, a Beothuk is depicted gazing to his left with an altered perspective. His view is given the foreground as if in opposition to the background, that whatever the Beothuk is seeing is not within the "times" of contemporary society. Second, Pop Mercer; a seemingly unexpected flash photograph is permeated with another view. But what is this shift? Ideas from the artist given form as influenced by the subject, and then imparted to it? Angel, an ordinary man is apotheosized and yet the decree is of no surprise, that the sacred powers arise more from the subject's humbleness, and so the wings and halo are barely affixed.
---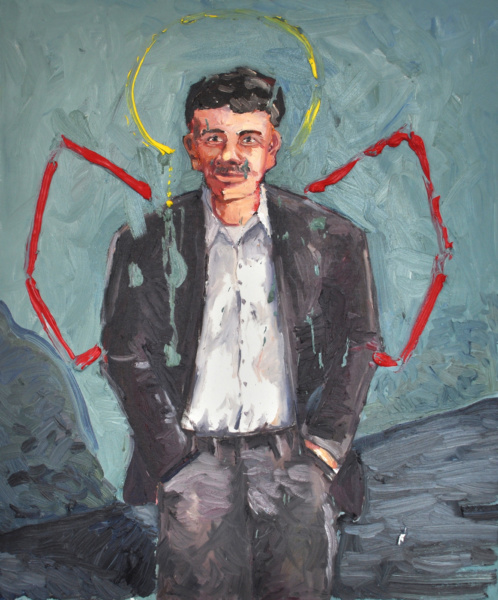 "Angel" by Jonathon Howse (Oil and acrylic on canvas) 36" × 30" 2016 :: Used with Permission from The Christina Parker Gallery
---
¶
© CUSS Journal